Description
Which flower fashionista will you grow? With Awesome Bloss'ems dolls, you can collect 26 dolls that grow straight from their magical flowerpot.
Pick your Bloss'ems doll like a real flower! Bury the seed in the sparkly soil and add leaf-fulls of water to watch your Awesome Bloss'em grow. If you wish hard enough, you might even get an ultra-rare doll with a real diamond tiara! Use the leaf spoon to place her on the branches and accessorise her with the beautiful flower chips.
Each Awesome Bloss'ems theme has different attitude, so you'll always find an Awesome Bloss'ems doll to match your style! Turn the Awesome flowerpot into a magical secret garden for your Bloss'em, with cool accessories for her to play with.
The Awesome Bloss'ems app is an Augmented Reality experience with voice recognition, that is sure to create hours and hours of fun! Use your camera to fill the room with magical flowers. Say the magic words and watch the beautiful Bloss'ems grow!
Who Will You Grow?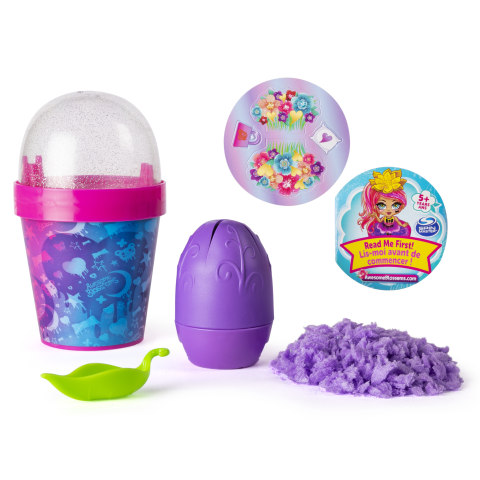 Awesome Bloss'ems
Who Will You Grow?
Plant a coluorful seed to grow your very own Awesome Bloss'ems doll! These floral collectible dolls magically bloom in their flowerpot when you say the magic words and add water! Each doll wears a fabulous outfit and has a beautiful blossom in her hair that smells sweet, like flowers! With over 25 dolls from 5 different themes, you can collect rares, super rares and even an ultra-rare doll with a REAL diamond tiara! Who will you grow?
Includes:
1 Pot with Dome and Lid
1 Seed
1 Awesome Bloss'ems Doll
1 Bag of Sparkle Play Soil
1 Leaf Spoon
1 Circle Sheet of Chip Art
1 Instruction Sheet with Collector's Guide